A Vest For Varro
By
Carrie Ann Green
Dec 6, 2013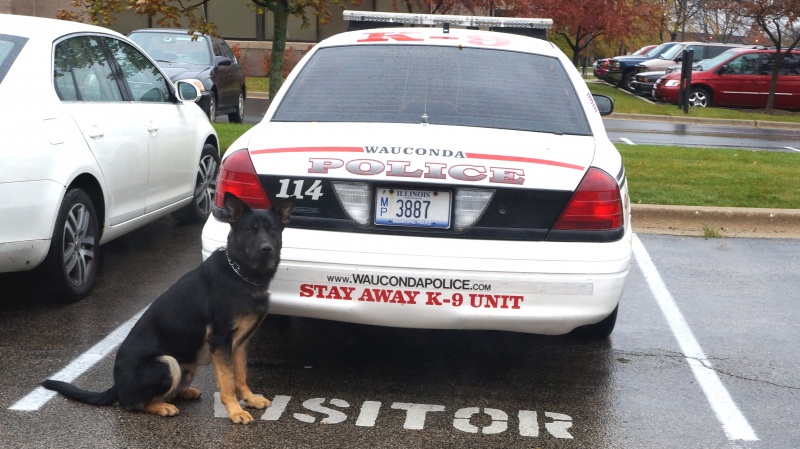 Varro sits in front of the K-9 Unit.
Global Resources' receptionist Penny has rallied her coworkers to the cause of police K-9s who are not supplied with bulletproof vests, as are their human partners, due to budget restrictions.  Unfortunately, these vests are expensive, costing an estimated $2,000 to $2,500 each.  Director Rich and Marie in Benefits have joined in with Penny to organize a company-wide fundraising effort to assist an adorable puppy, Varro, currently training to become a K-9 for the Wauconda Police Department.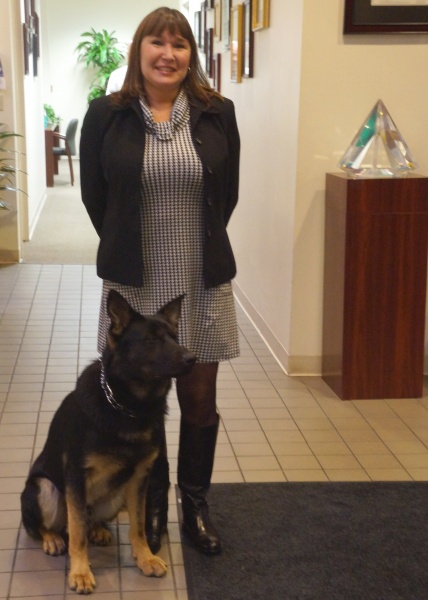 Penny poses with Varro.
As part of the launch to obtain 'A Vest For Varro,' Officer Keith Ringham brought Varro into the office in order to meet everyone and to answer our questions about Varro's training as well as his eventual role as a full-time K-9.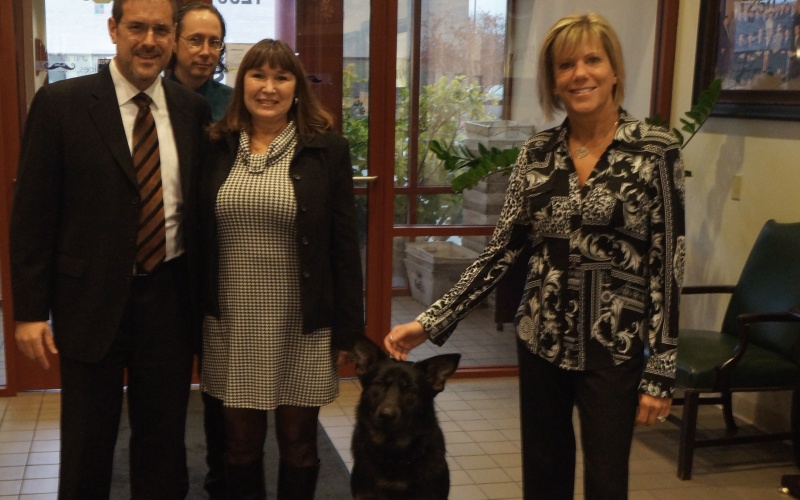 Rich, Rick, Penny and Jen meet Varro!
Varro, we learned, was named after the famed gladiator Varro, best friend of Spartacus.  Although only 18 months old, Officer Keith shared that Varro is the largest of the dogs currently being trained at the TOPS facility in Grayslake at an impressive 85 pounds.  As a growing puppy, it is expected that Varro's face will fill out more and that he'll gain more muscle in his chest.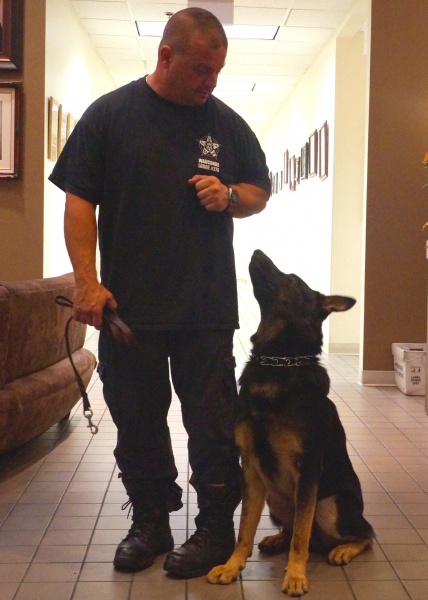 Varro listens intently to Officer Keith.
According to Officer Keith, Varro is typical of dogs bred and selected to be K-9s in that he has a healthy enjoyment of play.  His playfulness is what motivates him through his training.  When an activity is performed successfully, Varro is rewarded with a toy and play.  Training is a positive experience.  It is also a true partnership between the human and canine officers—Varro is with Officer Keith 24/7, not only on job, but also going home every night with him.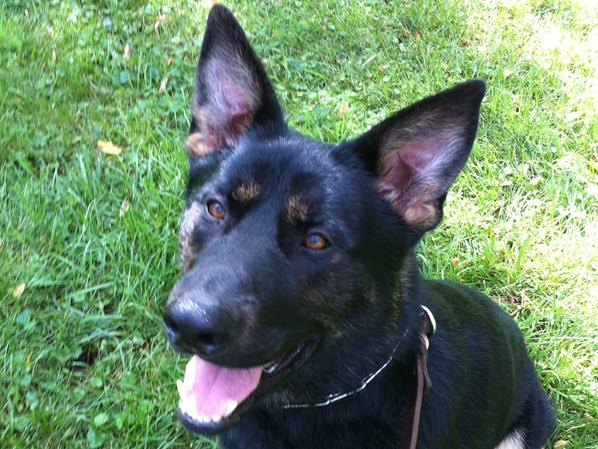 A big smile from Varro!
Varro is replacing Maxx, the department's current K-9, who after nearly ten years of service will be retiring.  Varro should graduate from training and formally start his career in May of 2014.  We hope to have him suited up with a vest by that time!
We're happy to report since the writing of this blog that the full $2,500 has been raised, allowing a top-of-the-line vest to be purchased (once he reaches his full adult size) for Varro!