By
Carrie Ann Green
Jul 7, 2015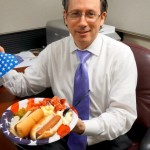 Happy Birthday, America!  We anticipated our holiday weekend with an awesome 4th of July potluck lunch.  The festivities started early with Deb's firecracker cupcakes.  These cleverly themed treats were filled with Pop Rocks candy (the fuses were black licorice ropes) and they had to be consumed, immediately, if we wanted to experience the cakes exploding like firecrackers in our mouth!
Snap, crackle, pop—Happy 4th of July!
Only a couple cupcakes remained by the start of lunch!
We kidded Joe that he had prepared 'Magic Mike Baked Beans.'
Our appetites…