By
Carrie Ann Green
May 26, 2015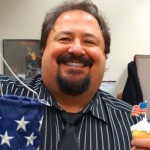 The recruiting department at Global Resources organized an office 'picnic' before leaving to enjoy the 3-day weekend.  In honor of Memorial Day, it was an all American picnic, serving grilled brats and hotdogs (kept warm using a couple crockpots) with all the traditional sides and toppings.  There were baked beans, potato salad, Joe's amazing pasta salad (see the recipe on our Facebook page) and an array of tempting desserts!
Shout out to Kerri and Deb for organizing this event!
Before, everything was totally devoured!