Global Resources: Supporting the Walk to End Hunger
By
Carrie Ann Green
Jun 14, 2013
Working to end hunger is a family tradition for sisters Jocelyn and Venus.  They remember helping their grandmother, when they were very young, to bring shopping carts of food to people in need.  Their grandmother was one of the founders of the Keystone Baptist Church's pantry, organizing the first food drives held there and being an advocate for ending hunger.
Once again, as they do every year, Jocelyn and Venus went from office to office collecting donations to support the Keystone Baptist Church team walking in the Greater Chicago Food Depository's 28th Annual Hunger Walk.  Scheduled for June 29th, so far, they have raised an impressive $1,300 from co-workers, friends and family (approximately $800 from Global Resources employees).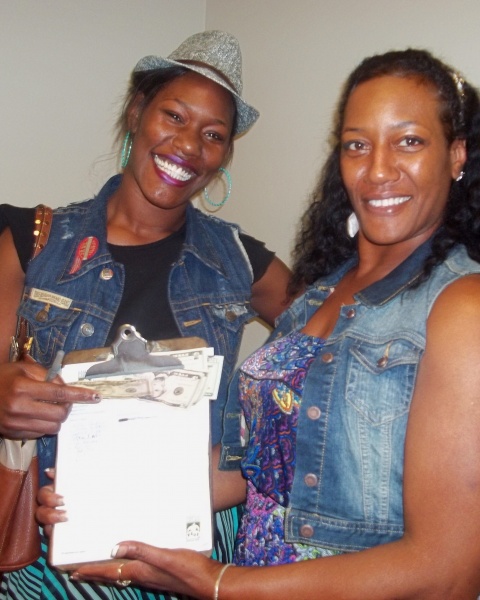 Jocelyn and Venus collect donations.
Jocelyn and Venus will join thousands of participants in the 5K, 3.1 mile Hunger Walk which starts at Soldier Field's Stadium Green and follows a course heading south along the lakefront, turning around at the 31st Street beach. This annual event raises both funds and awareness about ending hunger, benefiting 650 pantries, soup kitchens and shelters.  Last year, the Food Depository distributed 54 million pounds of food, including 21 million pounds of fresh produce.  This translates into serving more than 100,000 meals a day.
Per the Food Depository, the food insecurity rate in Cook County is 15.6%.  This means that 807,690 people, approximately one in six, are struggling to put food on the table.  More than 21% of children in Cook County, approximately one in five, are part of this statistic.  The Food Depository continues to see near record numbers utilizing their food distribution network—77% more individuals versus four years ago.  They expect this level of need to remain high due to the current rates of unemployment and the rising cost of food and fuel.
How You Can Help As An Individual or A Business: