Highlights: Women Employed's The Working Lunch
By
Carrie Ann Green
May 30, 2014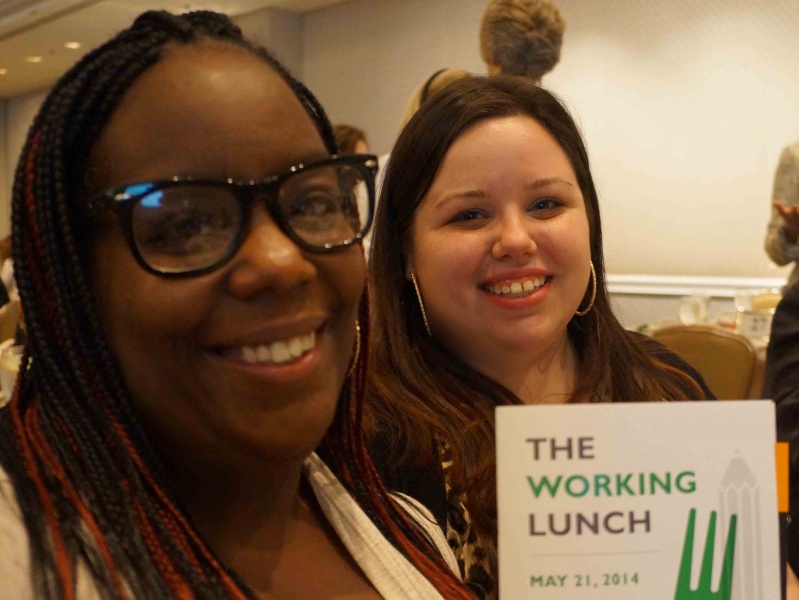 Women Employed (WE) is a Chicago advocacy organization, which for more than 40 years has been dedicated to creating fairer workplaces and expanding economic opportunities for women.  We were excited to fill a table at their annual 'The Working Lunch' on May 21st.  It was, as always, an extremely well attended, efficiently run and organized event with awesome networking and thought provoking speakers.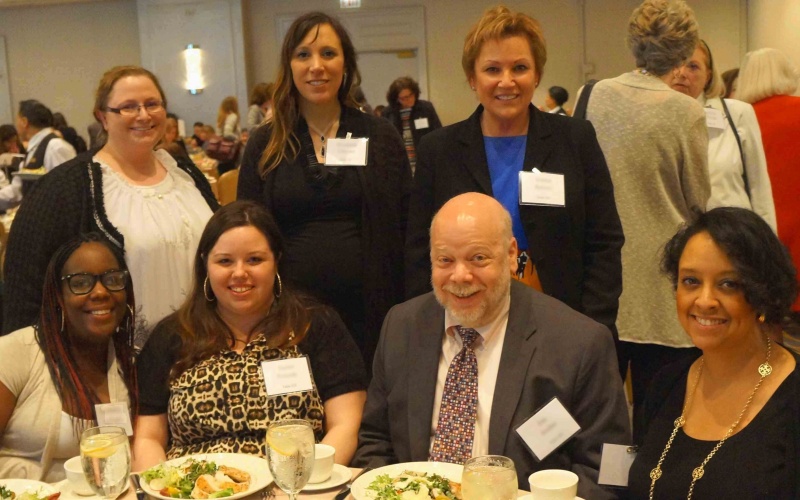 A Bill to Prevent Discrimination of Pregnant Workers
After a delicious luncheon, we had a line-up of three great speakers.  First, Anne Ladky, Executive Director of WE, announced the exciting news that a bill to offer protection against discrimination of pregnant employees had been passed by the Illinois Senate and it was now on its way for approval by the House.  The purpose of the bill was to require employers to allow reasonable accommodates for pregnant workers such as allowing them bathroom breaks, a stool to sit down on, a water bottle—simple things, which when denied, have forced women out of the workplace in order to protect their health (note, on May 28th, it passed and it is now law!).
She Has a Dream
The next speaker was Nataki Rhodes, who spoke about the hardships of being a restaurant worker such as not having a dependable, regular work schedule and how just-in-time scheduling practices (where workers receive few or no hours when business is slow, but that they must be available to work whenever business picks up) have impacted her life.
She discussed the difficulties of being a single parent in this situation and her need to have an understanding landlord for when her reduced work hours meant that she'll be late on rent—once again.  Rhodes also has to deal with poor pay, since as a restaurant worker, she only receives $4.95 an hour along with tips and she is not even guaranteed the minimum wage.
Rhodes was passionate about her topic, sharing how she loves her job and the restaurant industry and, despite all the negatives, she hopes one day to open her own food truck.  She plans on serving her famous jerk chicken recipe, which she assured us, is wonderful.  A fairer workplace with reliable schedules and above the poverty line wages, she concluded, would help make her dream a reality.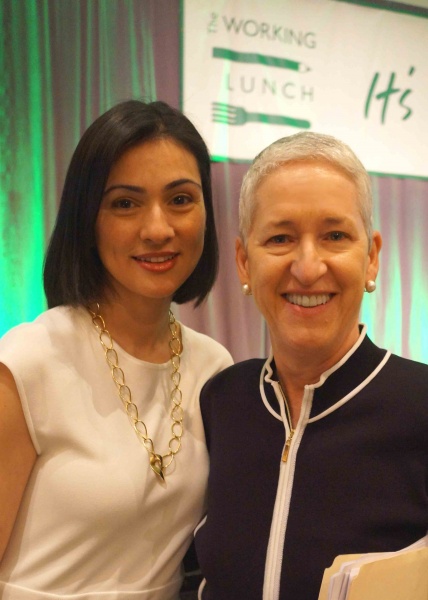 Keynote speaker Zeynep Ton (left) poses with
Women Employed's Executive Director Anne Ladky.
Can a Business Offer Good Jobs, Low Prices & Great Profits?
Like many business owners, you probably reacted to the above subtitle recalling that old song lyric, "well, two out three, ain't bad."  Conventional wisdom, especially in the discount retail industry, suggests that it's just not possible, but Zeynep Ton, author of the The Good Jobs Strategy and business professor at MIT Sloan School of Management, disagrees.
Ton asserted that based upon her research that it's entirely possible and, in fact, she cites four companies that have achieved what she refers to as the "trifecta" of good jobs, low prices and great profits.   The fab four are Mercadona,  a chain of supermarkets in Spain; QuikTrip, gas station/mini marts in the Midwest and South; Trader Joe's, national specialty grocery stores; and Costco, warehouse clubs.
A Different Business Model
"Offering good jobs and good prices for customers can still be good business."  Ton explained that it requires a different strategy with two big components.  First, a business owner needs to view workers as a strategic asset rather than a cost to be managed.  Second, it is necessary to commit to a set of choices that will improve productivity, resulting in great ROI.
These choices include:
Offer less to customers. In the era of companies trying to offer more as in greater selection of products, promotions, or extended hours, businesses successful at 'The Good Job Strategy' offer less, thereby, controlling their costs.
Standardization of jobs combined with empowerment of employees. While many companies standardize jobs, there often is no flexibility for employees improve upon these standards, to make changes that would better suit their local markets and could increase profits.  Empowerment means that employees are allowed to make decisions that facilitating improvement whether it's efficiency, cost savings, customer service, etc.
Cross-train employees. With cross-training, workers are able to handle many different jobs, depending upon what a customer needs at that moment.
Operate with slack. Managers should over schedule rather than under schedule in order  to maximize employee empowerment, productivity, innovation and customer service.
Ton emphasized that these are complex decisions, not as simple as they may seem and that they can not be selected 'a la carte,' but must be undertaken, together, in order to produce 'The Good Jobs Strategy.'
In an example that she presented in her TEDx Talk, Ton discusses how Walmart tried to offer less products to their customers, which was a huge failure, because this choice was undertaken in isolation.  When customers went to Walmart and they did not find the products that they were looking for, they left, without a purchase.
This is in contrast to Mercadona, where the exact same tactic was successfully implemented.  At Mercadona, workers were able to assist customers, explaining why certain products were no longer being carried, how much money it would save their customers and then they made suggestions for equivalent substitutes.
The difference in this level of customer service was due to how Mercadona treats its employees.  There, 85% of the workers are salaried, full-time, provided schedules one month in advance, receive four weeks of paid training and, not unexpectedly, the company has an extremely low worker turn-over rate.  Per Wikipedia, despite Spain's economic crisis starting in 2008, Mercadona is one of the few Spanish companies to profit during this period.
If a Gas Station/Mini Mart Can Provide Good Jobs, Any Business Can…
QuikTrip, a gas station and convenience store chain manages to offer the lowest gas prices as well as match their merchandise prices to the local Walmart.  In 2010, 89% of their locations enjoyed profits higher than the top 24% in their industry.  Not many people would associate good jobs with a gas station/convenience store, but they've been consistently listed in Fortune magazine's '100 Best Companies to Work For' throughout the last decade.  Investing in your people, assets Ton, does pay off.
The other two companies that Ton cited, Trader Joe's and Costco, follow the same business model and they easily outperform their competition.  Ton did stress that it wasn't just about paying people, it's about getting many things right.
Short Term vs. Long Term
Too often corporate management takes a short term approach, since companies with bad jobs can be profitable and, therefore, may lack the motivation to change.  Ton compared it to exercise, not easy, but worth the long term gains.  Hard work and tough choices make 'The Good Jobs Strategy' happen.
Not investing in your people, unfortunately, becomes a vicious cycle, says Ton.  A company which doesn't invest in its people, long term will develop operational problems, sales will suffer, which then means that there will be no funds available to invest in its workers.  If a company invests in its employees, those employees will drive profits—it's a virtuous cycle of long term growth!