Is 50/50 The Best I Can Do?
By
Global Resources
Feb 10, 2011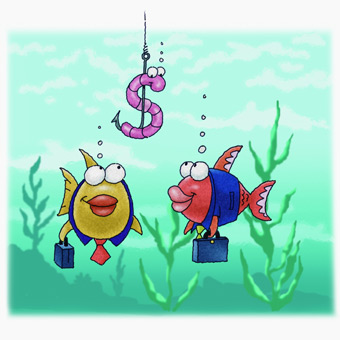 The world of recruiting has changed drastically throughout the years.
The days of picking up the paper and finding a job that could potentially lead you to a solid career are limited. The same is true for employers. Finding the right candidates through the local paper can be very expensive and may yield minimal results.
In today's economy, the online job boards have warped the traditional way of hiring. What started out as an effortless way for employers to look at an application has now become a haven for unsure individuals. The typical job applicant views the hiring process no differently than window shopping at a mall. It can be frustrating for the employer if the job seeker does not maintain a level of seriousness.
With the unemployment rate at 4.5 percent nationwide, business owners are being forced to change tactics. Business owners must accept the idea that every city and town contains talented employees. Many companies do not put hiring practices at the forefront of their responsibilities. They have not come to the realization that surrounding themselves with great people is a key factor for success in every business. However, the search for qualified employees can be exhausting. Now is the time to develop a recruiting process. Put yourself in the applicant's place and ask, "Why should I work for you?" Job satisfaction is a primary reason why many workers switch employers every three years. The goal is to market your business for the applicant, not for the product. Getting the desired amount of applicants interested in your business is very important. You do not want your options to be limited. If you focus on the previously mentioned question, you will think like an applicant instead of an owner or recruiter. Every business has immeasurable benefits to offer extending beyond money. Job satisfaction derives from the feeling you get right before the start of your work week. An applicant needs reasons as to why he or she would want to work for your business.
A solid plan must be established prior to an employee starting his or her first day of work. A successful hiring process has a smooth series of steps. Everyone who takes part in hiring the applicant must be involved in the recruitment process. Showing an unorganized approach will lack the creditability needed to hire the RIGHT person.
In order to do this, you must first consider your advertising strategies. Make sure you track the results of your marketing efforts. Advertising is expensive and holds no guarantees. At times, you do not get what you pay for. Finding new employees should not be a guessing game.
The process of properly preparing an applicant for the interview is not only a great use of time, but it can also be used as a screening process. Many times, the applicant is excited to talk to the company following this preparation process thereby providing you the opportunity to tell the applicant what he or she needs to know, not what the applicant wants to hear. This can lead to stimulating conversations. Sending an E-mail prior to this conversation or having a job description well-displayed on a Web site can also be beneficial. It will show the applicant how serious you are and it will quickly reveal the applicant's level of commitment. Try and be creative when preparing your applicant for an interview. Using marketing material is a common practice, but you can also try using Web sites, DVDs, pictures and customer testimonials in order to achieve successful results.
According to resources such as Forbes magazine and the U.S. Chamber of Commerce, applications contain false information. Therefore, it is important to ask the right questions during an interview. By asking the right questions, you allow the opportunity to understand the applicant's full potential. You may get answers to questions including how much support the applicant needs, the potential legalities surrounding the particular applicant, and the applicant's wants and expectations. It is important to remember that maintaining control throughout the conversation is crucial and communication is imperative. You only have one shot to represent your legacy. A recruiter should not feel uncomfortable in showing passion or in announcing an agenda to the applicant. The more organized you are, the more potential employees will want to emulate that.
After a candidate is hired, make sure he or she is committed to the process; follow through is important. By this point in the interview process, you do not want to waste time or money. Even if the hire's start day immediately follows the day of the interview, continue to keep him or her involved in the process. Make yourself available to the new employee for any additional questions or concerns. Do not be afraid to put your new hire to work. Assign small tasks to your hire in order to better prepare for this new career. This will decrease the risk of your new employee interviewing somewhere else.
According to Quest Diagnostics, on average, at least half of new hires in the United States do not work out. Knowing this, you can ask yourself, "Which half do I have?" Make sure you are retaining the right people. Most business owners hire people they can relate to, just like most people buy products from people they like. Try to avoid thinking everyone needs to be like you. Retention should be a process and the people you retain should be the people you envision taking your company to new heights.
Additionally, retention has many variables all revolving around job satisfaction. The company's culture or management style will either quickly excite or scare a new hire. This is why job descriptions are so important –detailed descriptions, coupled with timely incentives are essential to increasing longevity. Personal growth comes in all shapes and sizes. However, education is a great motivator. Education can include sending your employee to seminars and accredited classes or simply furthering your new hire's experience within the corporation. Being able to describe how an employee can follow a solid career path will also lead to increased retention.
As an employer, you quickly realize that recruiting is a sales position. Because it is a sales process, you have to be able to see the difference between quality and quantity. The real fun begins when you have the privilege of hiring the right people for your business and when you have the right systems in place to retain them. The ultimate goal for the employee/ employer relationship is to build your employee's legacy. Everyone has the right to feel good about what they do and it is the employer's job to make that happen. When such greatness is born, there is a persona in the air that is beyond reproach. The willingness to overcome any challenge becomes a norm. The team's ability to hold each member accountable is what wins championships. As Vince Lombardi said, "Winning is a habit. Unfortunately, so is losing."