The Ingredients Of Success
By
Global Resources
Nov 9, 2011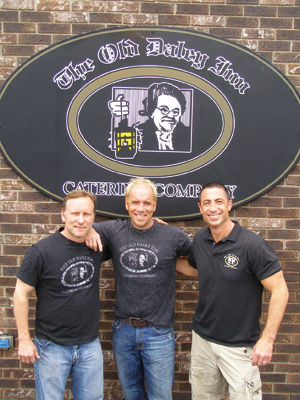 "I'd seen the stars, I'd seen the sky and I'd seen the instruments, but I had no idea how to put it all together and make it work."
The Old Daley Inn Catering Company has been serving New York's Capital Region, and beyond, since 1975. The business originally functioned as a restaurant offering a lunch and dinner menu to the locals of Troy, N.Y. Over the years, the restaurant gradually expanded to include catering. The company's management found catering to be a business they could grow and profit from; therefore, the restaurant was eventually closed.
These are the words of Jim Pettit, one of three owners of The Old Daley Inn Catering Company located in Troy, N.Y. Pettit has two partners in the business, Gene Coletti and Martin Keary, III. Pettit's wife, Stephanie, works in the business and is certainly a driving force behind the development of The Old Daley Inn Catering Company's quality brand name. In addition, Martin's wife, Janice, recently joined the team and handles public relations.
Pettit, having gotten his start in the restaurant industry washing dishes at The Old Daley Inn when he 16 years old, had grown up with The Old Daley Inn and knew the community had become accustomed to the quality the company's name stood for. They built a culture and their slogan has since become, "We love what we do, and so will you."
Pettit, now the company's president, has made a lot of excellent business decisions over the years. Furthermore, the company's management has always approached their market with fearlessness and confidence. In fact, Pettit was once quoted as saying, "We'd like to change the face of catering." Well, not only did the company change the face of catering, but it also established a new catering standard.
To establish this standard, management first took enormous effort in understanding their clients' needs. Recognizing early on that many are intimidated and overwhelmed by the thought of hiring a catering business, the company's management developed a process that allowed customers to simply relax and enjoy their events. Coordinators were provided for practically every type of event imaginable, including weddings, fundraisers and upscale barbeques, as well as business and residential drop-offs.
Most important, the company's food was outstanding. Management developed a variety of menus to fit any palate and any budget. Catering menus ranged from hors d'oeuvres, to party platters, to catered meals. A drop-off/delivery menu was also offered that included morning brunch, box lunches, party platters and catered meals.
But standard catering was not enough for Pettit, his wife and their partners. The Old Daley Inn Catering Company had become a quality brand name in the region. The company's wave of growth inspired management to expand into new markets and venues.
Since 1985, The Old Daley Inn Marketplace Mobile Bistros have offered customers restaurant-quality lunches at two seasonal mobile vending carts from late spring to early fall. There are also two cafes, The Old Daley Inn Marketplace (a cafe) and Pastanini (a pasta and panini shop), which are retail shops serving lunch from 11:00 a.m. until 2:00 p.m., Monday through Friday. Then there is The Old Daley Inn Barbeque Company, the Capital District's largest "mobile" barbeque business, serving corporate and private functions ranging in attendance from 75 to more than 2,000 people.
The company's growth and success earned it a number of accolades and awards, including recognition as the third fastest-growing company in the Capital Region in its revenue category, according to the Capital District Business Review in 2007 and 2008. The company was also ranked as the second-best caterer by two local magazines, Metroland and Capital Region Living for the last four consecutive years. Additionally, in May 2009, they were awarded the Excellence in Small Business Award by the New York State Business Development Corporation, their bank and the U.S. Small Business Administration.
It seemed as if every venture pursued proved to be successful for The Old Daley Inn Catering Company. There was a lot of hard work and dedication behind the company's success, but Pettit knew that hard work and dedication alone would not be enough to sustain the business through the recession. Pettit felt he had no control over the back end of the business. In other words, he did not have the financial controls, or the systems, to accurately measure and manage the day-to-day operations. Pettit simply relied on his experience and gut feelings when making decisions.
"We were pretty comfortable with the front end of the business, but I felt I was in the dark when it came to the back end," Pettit said.
One day, Pettit received a telephone call from a telemarketer. Unlike many of today's small business owners, Pettit was not in a crisis. In fact, he had very little fear regarding his survival of the recession. Instead, his anxiety centered around why the company was not making more profit, and whether the economic crisis would magnify this lack of profitability. Though Pettit's situation was not desperate, he jumped at the chance to have a fresh set of eyes take a look at his business. Clearly, Pettit knew the catering business, but he also knew he was not effectively managing the "business of the business."
After a two-day analysis, Pettit realized how little he knew about the back end of the business. His fears had been confirmed, as he did not have a handle on the financial and operational aspects of the company. For the first time, Pettit saw how fortunate his company had been and that its success was primarily the result of management's ability to effectively grow the front end of the business. If a catastrophe had occurred, or the economic conditions continued to decline, Pettit would not have known how to respond or possibly even survive. Success had led to more success and management was proud of what they had built. However, Pettit kept asking why, if he and his team were so successful, had they not been making more profit?
Because of the analysis, Pettit was able to see his business in a new light. He began to recognize he had no tools allowing him to manage the key variables of the business. Pettit knew he had to measure the right amount of ingredients to make a stuffed sole Florentine with vegetable rice pilaf, or a roast pork loin with mushroom Dijon sauce, but he had no idea how to determine his breakeven on a project.
Suddenly, Pettit realized his business was not following any specific recipe. Ingredients were being added as the need arose, and there were no measurement systems in place to track his true costs of labor, materials and overhead. He learned there was no planning, no controls, no measurements and no process for continuous improvement. Pettit was concerned with regards to where all this money was going and wondered why he was unable to drive more profit to the bottom line. The business had the makings of one of grandma's secret recipes in which all the ingredients were added based on a gut feeling. A little of this, a little of that, and so on.
Initially, Pettit was hesitant to spend money in order to get help.
"I didn't want to go through a serious case of buyer's remorse," he said.
He knew he would only be wasting his money if he were not committed to following through with their recommendations. It was not until he posed a challenge to a project manager and consultant that he decided to move forward.
"I will hold you to it; I have a lot of skin in this game," Pettit said.
The two representatives told him not to worry and that they would do everything they said they would do as long as Pettit also did his part.
Over the years, Pettit had strayed from the principle that the primary purpose of any business was to make money. He was intent on growing sales instead of net profits. He soon realized that the objective of any business should be to have a well-managed company that operates from a pre-organized profit plan.
"You really don't need to know anything about profit when you're making money," Pettit said.
But shortly after they began, Pettit saw that his old habits were costing him a lot of money. Specifically, he noticed he was losing money through his pricing. He always believed his cooks followed specified weights and measurements until he did a few random calculations. There were expenses, such as gas for deliveries, that were not being monitored and were being treated as overhead.
Having never tracked key operating and financial ratios, Pettit was also surprised to learn there were performance issues that were not being properly managed. There were no systems in place to identify and create solutions to capacity constraints. Also, from an organizational standpoint, there was no functional management team structure. Instead, everyone chipped in and contributed whenever and wherever help was needed.
It was not long before Pettit saw favorable results materialize. He began to feel a sense of control over what he always thought was uncontrollable. He was ecstatic when he realized that, from then on, he would always know his true cash position.
Because of the help, Pettit is now able to instantly review his inventory data when making purchasing projections and can easily determine the productivity of his staff, the amount of overtime allowed and the amount of allowable waste, as well as the accuracy of all orders. Prior to the implementation of these new systems and controls, The Old Daley Inn Catering Company's bottom line had always lingered around two percent of net revenue. Following the visit, net profits grew to 18 percent of sales in less than one month.
According to Pettit, the real benefit was that he finally gained the tools and data necessary to manage the back end of the business. Now, he can accurately measure his labor and material costs, determine the breakeven and profit on each account, manage cash flow on a daily basis and accurately track actual costs to quotes. In addition, Pettit can manage his business in real time and can make adjustments or change strategies with a higher level of confidence.
Pettit finally found a recipe for growing profits. Last year was The Old Daley Inn Catering Company's best year to date, as the company experienced a $100,000 growth in sales, but, more importantly, Pettit's business had a seven-fold increase in profit.
In addition to increasing its profit, the company has also increased its charitable contributions. Pettit and his partners are unique in that they believe, as business owners, they have a responsibility to not only make a profit, but also to put their profits to good use. Stephanie indicated that the company previously dabbled in providing services and/or food to charities; however, she never felt this was enough. She wanted to do more to help those less fortunate.
One evening while watching TV, Stephanie saw a news piece about a local church that focused on helping hungry children. The church was seeking donations so it could continue to feed children in the community. Instantly, Stephanie jumped up and exclaimed to her husband, "That's what we're going to do … feed those kids!" So, Stephanie met with the church's minister and told him about her plan.
This idea proved to be yet another success for Pettit and his partners. Since September of last year, The Old Daley Inn Catering Company has been donating meals, every Wednesday night, for 100 hungry children in the community, at a retail value of $52,000 per year.
Once, Stephanie asked the minister what he did with the leftovers.
"Leftovers…there are never any leftovers because there is always a line of parents outside waiting to come in when the children finish," replied the minister.
The Old Daley Inn Catering Company began as an ordinary restaurant serving lunch and dinner to the locals of Troy, N.Y. Today, the business and its management are role models to any entrepreneurs daring to pursue their own dreams.
The company's management has learned there is more to building a successful business than providing a quality product or service. There is more to building a successful business than growing revenues and expanding market share. There is more to building a successful business than having quality employees and loyal customers. The key to building a successful business is figuring out how to put it all together and make it work.
Though The Old Daley Inn Catering Company had been quite successful throughout the years, the company was missing one key ingredient necessary for management to complete their dream— PROFIT! With profit, The Old Daley Inn Catering Company has redefined what it means to be a successful small business in today's economy, or any economy.
"They gave me a Ph.D. in my business, and I practice it every day," Pettit said.