Making Your Website Your Small Business Showroom
By
Carrie Ann Green
Mar 10, 2015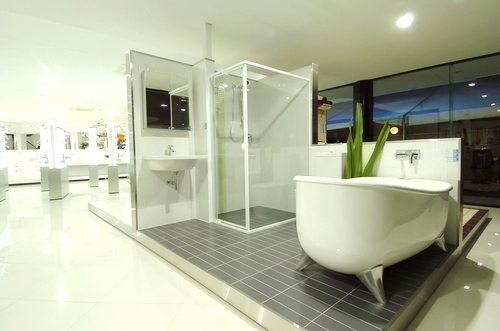 A showroom is a well understood concept for business owners who offer furniture and home décor as well as home construction/remodeling products and services.  It just makes sense to offer a space to entice customers who want to experience your products and services, one-on-one.
When buying a faucet, for example, a customer may desire to touch the handles, see the faucet's proportion in relation to a sink, perhaps fall in love with a carefully presented vignette and purchase the entire display—the matching towel racks, vanity, sink, mirror, light fixtures, etc.  Customers often are unable to envision how a finished product will look and how the related accessories go together.  It's a showroom's job to bridge that gap in their imagination.
A website for a small business operates in much the same fashion.  Think of your website as a virtual showroom.  It's about putting your best foot forward online and allowing customers to connect emotionally to your business.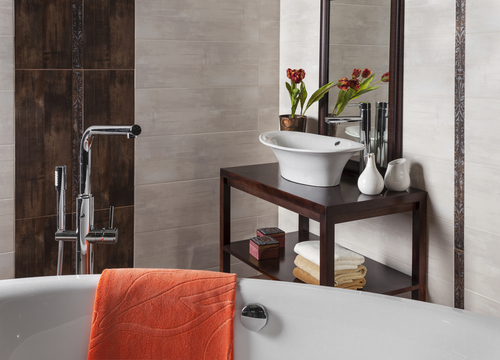 Photography Sells!
Photos have taken over online merchandising.  In Social Media, images have been proven, in study after study, to drive greater engagement with more clicks, more retweets, more shares and likes, than text alone.  For websites, images increase views and SEO, yet, the majority of small business sites still underutilize this valuable asset.
That old comparison of a website to a company brochure or business card is sending the wrong message.  People no longer want to read about your products and services.  Like a showroom, they want to see and interact with them.  Websites should be extremely visual.
Think of it as having your own 24/7 television commercial that potential customers can navigate with the click of a mouse or a slide of their finger.
You Need High Quality Images
Try to take the best photographs, possible.  Grab a couple work lights on tripods (easy and inexpensive to find at any automotive supply store) to bring light into shadowed corners.  If unable to hire a professional photographer, check out the numerous photo editing software packages that allow you to adjust brightness, contrast, and color levels to create the best images.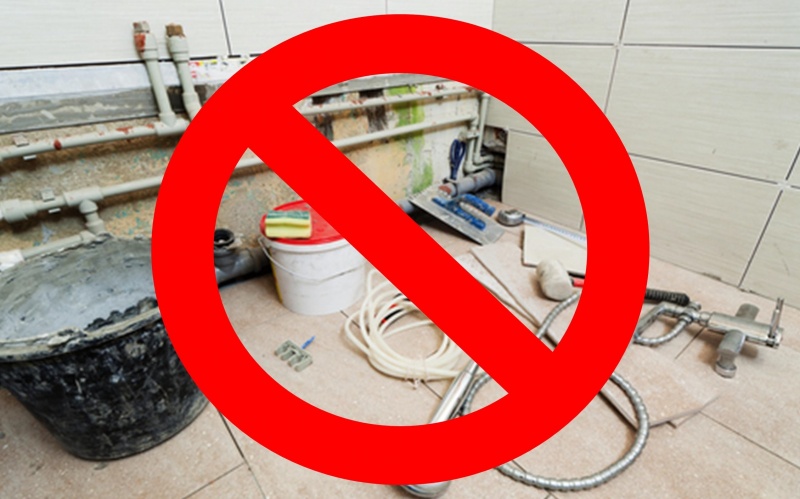 Before and after images can be impressive, but resist the temptation to show a 'during.'  As anyone in real estate will tell you, customers are scared off by a work-in-progress.  Staged houses quickly sell, not those in the midst of construction or empty of furniture.  Photographing a newly remodeled bathroom?  If there is not a glass shower door, then hang an attractive shower curtain, arrange a few color coordinated towels and perhaps a high-end soap dispenser.
Be certain not to overlook any distracting details (close the toilet lid, please).  You should pack away or remove all job equipment, supplies or garbage.  You want as perfect an image as possible.  What cannot be removed should be cropped out of your final photograph.
Videos Fuel Search
Video has become a competitive advantage, surpassing all other content, in search results.  A YouTube or Vimeo account with testimonials, tips, how-to, or virtual tours, will quickly land on the first page of your corporate search results and for that of your keywords (if the video titles and descriptions include keywords and are properly linked to your website and Social Media URLs) as well as bring substantial traffic to your website.
Video is a functionality that takes full advantage of the medium of the Internet.  Just as a showroom appeals to a customer's five senses, video brings sound and three dimensions to your products and services.  It captures a customer's attention, causing them to visit and linger longer on your website.  If the budget allows, hire a professional videographer.  Otherwise, search online for resources, tools and tips to learn how to create great business videos.  Know that quality video cameras are surprisingly affordable, today, as a built-in feature for many digital cameras, making video more cost effective and user friendly than ever before.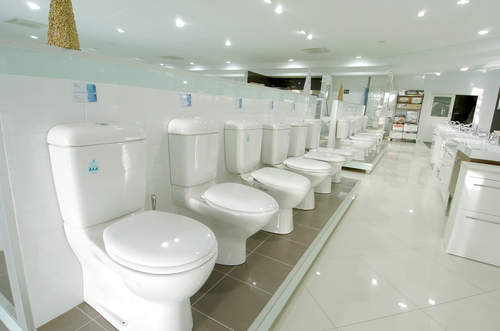 Keep it Tidy!
A dirty or messy showroom, perhaps with broken display items, would not be allowed.  Yet, many small business websites are posted online with broken navigation, broken links, or blank pages.  You would never expect a bathroom display missing the toilet to sell toilets, yet businesses post "Coming Soon," for Testimonial pages and other important content.  If a page is waiting for content, hide it from navigation or save it as a draft.  Do not share it with the public until it is ready to be viewed.  Why would your standards for a functional showroom be higher than that for your website?  A website also represents your products and services and an incomplete or 'broken' one will cost you leads.
Remodel and Revamp
A showroom needs to be periodically updated to reflect changing taste in styles and colors.  Just as trends are seen in appliances and fixtures, websites also can become dated and no longer appeal to customers.  No one would keep a showroom the same, year after year, and expect sales to stay where they were as when it was new.  A website also should be refreshed with new content.  A complete revamp may not be practical or cost effective, but try to change out 25% of your website, each year, to keep it current and attractive.  Pay attention to your viewer navigation via Google Analytics and know which pages have the highest and lowest bounce rates, what keywords are bringing in traffic, and strive to keep what is working and to remove what is not working.
If Your Sales People Sat at Their Desks, Ignoring Customers, You'd Fire Them
In a showroom, no business owner would tolerate sales people that did not greet customers and offer to help them.  That's sales 101.  Many small business websites, however, lack any Call To Action (CTA).  Your website should also interact just as would a sales person.  A CTA could include invitations to sign up for a newsletter, white papers, discounts, or contests.  There could be a pop up dialogue box to submit questions or to request a quote, free estimate, or an appointment.  At the very least, have your business contact information—phone number, physical address, email address provided with a contact form that can be submitted online (so that people can act while still on your website).  The goal of a CTA is to make it easy for potential customers to take the next step.
Online marketing is not greatly different from brick and mortar marketing.  What works in person, in a physical location, works on the Internet.  What customers want is the same.  All that has changed is the channel.  Embrace your website as your virtual showroom and watch the sales leads come in!